If everything goes Sharon Sumner's way, she will receive millions of dollars from her slip and fall case – but if all things were created equal, she'd prefer to have her life back.
Ms. Sumner, 61, is a former realtor who worked in West Palm Beach until she slipped and fell on a ramp outside of her office. After the fall, Sumner allegedly went to the doctor and learned that she had herniated discs in her neck and lumbar spine, and that the spinal damage also affected her brain.
Sumner's lawyer has told jurors that the plaintiff racked up $670,000 in medical expenses alone after Sumner's five surgeries following the incident. In addition to medical expenses, Sumner alleges that her traumatic brain injury has left her without the ability to work as she did before.
Because of these issues, she is asking for millions in compensation to cover her many damages.
Who exactly is she suing? The defendant in this case is Lantana Palm Beach Retail LLC, the owner of the property and the ramp where Sumner fell.
While the ramp had been previously safe to use, the plaintiff alleges that a paint job done by WGM Quality Painting, Inc. made the ramp slippery and unsafe to use. While Sumner could not tell the jurors in the first week of the trial why she fell, she said that the slipperiness of the ramp "definitely" contributed to her fall.
As the trial continues, Sumner will have to provide the evidence of her medical expenses and go more in-depth in explaining her injuries, and the defense will need to provide evidence about claims they have made regarding Sumner's health, including her history with depression and a fall-related injury 20 years ago that caused her to leave her primary care physician.
There are a lot of factors in Sumner v. Lantana Palm Beach Retail, and the trial has just started. It will likely be a long time before we know what the final ruling and damages will look like.
Let's go back to the reason Sumner is in court in the first place, though: she claims that a slip and fall caused a traumatic brain injury.
Is that even possible? In short, yes.
Slip and Falls and Traumatic Brain Injury – The Facts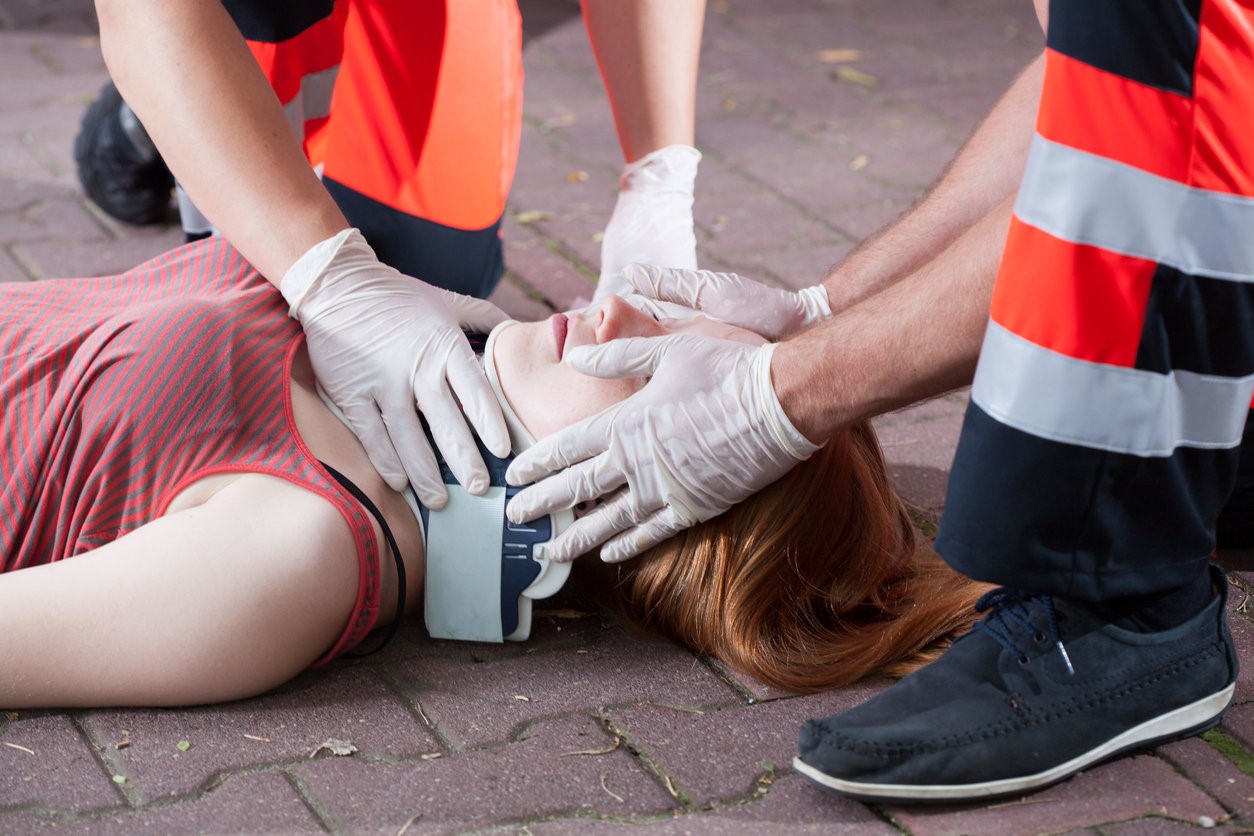 Not only is it possible to suffer a TBI while falling down, falls are actually the leading cause for TBI – especially in young children and seniors. They cause 55% of TBIs in children age 0-14, and 81% of TBIs in adults ages 65 and up. Other causes for TBI include blunt trauma, assaults, and motor vehicle accidents.
What exactly does "falling" mean? The term is a fairly broad umbrella that includes both things such as falling off of a high ledge as well as falls due to slipping on oil, grease, or other slippery substances that are left on the floor.
TBIs affect millions of people every year. In 2010 alone, 2.5 million people went to the ER or hospital, or died from injuries related to TBI, and traumatic brain injuries killed 50,000 people that year.
Interestingly enough, most TBIs are mild. If you've ever suffered a concussion, then you have suffered a mild form of a traumatic brain injury. Even when TBIs are mild, though, they are very serious because they deal with such an important (and fragile) part of the body. If a TBI is severe, the patient may lose certain motor skills, or suffer from an extended period of unconsciousness or memory loss.
Basically, TBIs are nothing to mess around with, and it is vital that you know the signs, symptoms, and what to do in the event of a TBI.
Have You or a Loved One Suffered a TBI Due to a Fall?
No one should have to suffer through a traumatic brain injury. If the TBI was the result of unattended foreign substances on the ground, an abnormally slippery ramp, or other factors, the victim has the right to hold property managers and staff accountable for injuries that could have been prevented.
If any of the following occurred, you may have a slip and fall lawsuit on your hands:
The defendant was aware of the dangerous condition that led to the plaintiff's slip and fall.
The defendant was aware of the dangerous condition and did nothing to resolve or remove it.
The defendant would have know about the dangerous condition if they had exercised reasonable diligence.
If you or a loved one have suffered a traumatic brain injury and are ready to take legal action, get in contact with a Florida personal injury lawyer.
About the Author:
Jeffrey Braxton is a trial lawyer in Fort Lauderdale who has devoted his 22-year career to the practice of personal injury law. As lead trial attorney The South Florida Injury Law Firm, Jeff has litigated thousands of cases and is a member of the Million Dollar Advocates Forum, an exclusive group of attorneys who have resolved cases in excess of one million dollars.