24 May

What Happens If You're Drinking and Driving and You Get Hit
We all know that drinking and driving is a dangerous decision. The laws against drinking and driving are harsh, and it is common knowledge that having a few drinks puts you at a huge risk for getting into an accident if you get behind the wheel.
Here's something most people don't think about, though: what happens if you driver after having a few drinks and another driver hits you?
What to Do at the Scene of the Accident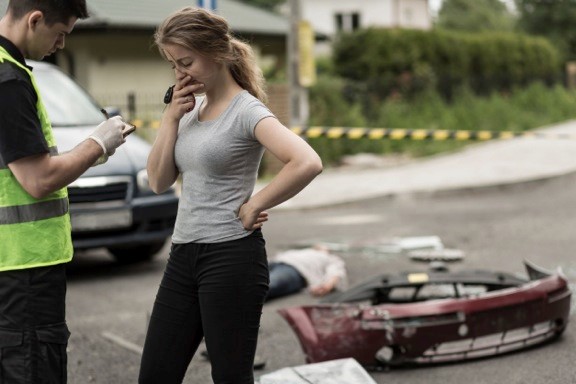 Even though Florida's primary insurance coverage is "no-fault" insurance, it is always best to remain silent and hold back apologies for an accident.
If you have had a few drinks, this is even more important. Telling a police officer or someone else at the scene that you are sorry for the accident, or that you've been drinking, is inviting trouble.
Do this any you could not only face criminal penalties, but also seriously harm your ability to receive compensation because you can bet that the responsible driver will bring up your drinking in court as a way to blame you for the accident. Why is this important?
How Drinking and Driving Affects Comparative Negligence
Say the car accident is blatantly another driver's fault. They were speeding. Or you had the right of way but they hit you because they were texting or ran a red light.
Most of the time, this would be an open-and-shut case. All you really need to do is tally up the damages and provide evidence of their wrongdoing. If you were drinking before the accident, though, everything changes due to Florida's pure comparative negligence laws.
These laws aim to fairly assign fault after an accident, and compensate the plaintiff accordingly if they win their case. For example, if a driver takes another driver to court for $10,000, they may claim that the defendant's speed caused the accident.
However, the defendant could argue that the plaintiff was not wearing a seatbelt, which caused them to suffered more injuries. Because of this, the judge might find the defendant 80% at fault for the accident, and the plaintiff 20% at fault.
If the plaintiff wins the case, they would only receive $8,000, or 80% of the damages that they asked for.
Now imagine that the defendant can prove that you were driving under the influence of alcohol. Most judges are likely to view this as a factor that influenced the accident because your decision-making and reaction time might not have been at their best.
Because of this, you are very likely to be found at least partially at fault, reducing the compensation that you need and deserve.
Defending Drinking and Driving in a Personal Injury Suit
In order to reduce your compensation, the defendant has to prove that you were guilty of drinking and driving. Just like drivers can defend themselves against DUI charges in criminal court, you can defend your actions to improve your chances at receiving the most possible compensation for the damages you've incurred.
Common defenses include against accusations of driving under the influence include faulty breathalyzers, prescribed medications that caused a false breathalyzer reading, or lack of evidence to prove that you were past the legal limit in the first place.
Even if you had a few drinks before someone else crashes into you, it is still possible to receive the compensation you deserve. However, it is wise to plan for the defendant to attack you in any way that they can. Because of this, you need to make sure you have a Florida auto accident lawyer by your side.
About the Author:
Jeffrey Braxton is a trial lawyer in Fort Lauderdale who has devoted his career to the practice of personal injury law. As lead trial attorney for The Injury Law Firm of South Florida, Jeff has litigated thousands of cases and is a member of the Million Dollar Advocates Forum, an exclusive group of attorneys who have resolved cases in excess of one million dollars.