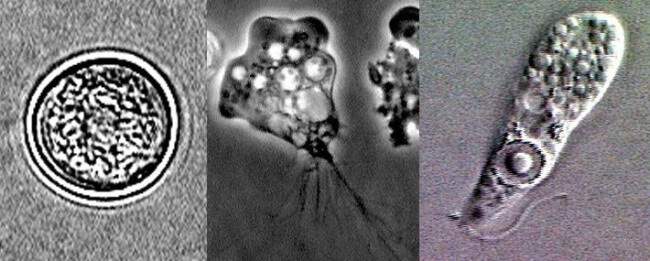 Image: http://commons.wikimedia.org/wiki/File: Naegleria_fowleri_lifecycle_stages.JPG
Terrifying, Rare Infection on the Rise in 2013
This year has seen several cases of a rare, almost science fiction-like brain eating amoeba, which has caused serious illness and even death in several children across the country. The amoeba, with the scientific name Naegleria fowleri, is found in fresh water and enters the human body through the nose. From there, it swims up to the brain, causing vomiting, neck stiffness, and severe headaches. After a few days, an infected person may fall into a fatal coma. Since 1962, there have been 128 reported cases of a Naegleria fowleri infection, and until this year, only one person in the U.S. and one in Mexico have survived. According to National Geographic, there have always been four to five cases of this type of infection every summer, but 2013 is different because cases are being reported in different geographic locations, including areas much farther north than normal. Scientists attribute this to global warming. Because the parasites survive in warm water, they are able to find viable homes in areas previously too far north to sustain them.
Image: http://pixabay.com/en/warsaw-poland-park-forest-trees-100294/
Global warming may be to blame for the larger amoeba habitat, but other parties may share some liability for these fatal infections. Take, for example,  the case of Kali Hardig, who has captured the nation's attention because she is only the third known survivor of this infection. Doctors believe she contracted the parasite at the Willow Springs waterpark in central Arkansas, whose main attraction is a sandy-bottom natural pool. Though the water is chlorinated, the main source of the springs is natural water; scientists say that, given the natural source, there was no way that chlorine could kill the parasite. The park is now closed, but the owners were told that the death of a young boy three years ago may also have been caused by a parasite contracted in the same place. The owners, David and Lou Ann Ratliff, are heartbroken at the closure of the 85-year-old park, and by the tragedies that have befallen two of their visitors. Mr. Ratliff told the press, "I don't know what we would have done different had we had more information. I think we would have done something different. I don't know if it would have changed things…. I have lived my dream for the past 10 years. I think it is probably over." The Ratliffs may reopen if they can convert the natural spring into a concrete bottomed pool.
I don't think anyone is arguing that Willow Springs should be held liable for Kali Hardig's illness. The Ratliffs had no idea the parasite was in the water, and therefore had no way of preventing the catastrophe. Even if they had known about the first case, they may not have been able to do anything differently. Dirk Haselow, the Arkansas state epidemiologist, said, "A sporadic case occurs one in 33 million," and told reporters that it was highly unlikely for the parasite to show up twice in the same place.
Although no one blames the Ratliffs for the parasite, the case should serve as a warning to property owners with sources of natural water. Putting up warning signs, providing safety tips, or even doing as the Ratliffs are thinking of doing and converting the water source into a concrete bottomed pool will help prevent such incidents from occurring again. Some people may think this is overreacting, and others may mourn the loss of natural places to swim, but as these parasites continue to spread about the country, it seems a small price to pay for the safety and health of children and adult swimmers.
About the Author:
Jeffrey Braxton is a trial lawyer in Fort Lauderdale who has devoted his 22-year career to the practice of personal injury law. As lead trial attorney for The South Florida Injury Law Firm, Jeff has litigated thousands of cases and is a member of the Million Dollar Advocates Forum, an exclusive group of attorneys who have resolved cases in excess of one million dollars.