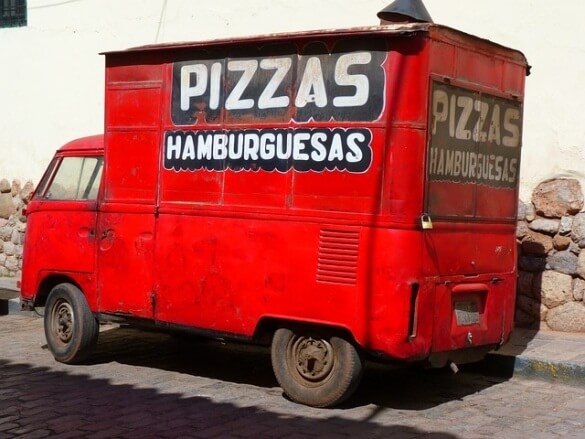 Image:http://pixabay.com/en/pizza-service-order-pizza-pizza-43368/
It's a Dangerous World for Pizza Delivery Drivers
Pizza can be dangerous. No, we're not talking about the fat content or the artery-clogging cholesterol. We're talking about the surprising number of accidents and injuries surrounding pizza delivery. In fact, according to PizzaMarketplace.com, in 2003, the U.S. Bureau of Labor Statistics ranked pizza delivery and other delivery jobs as the fifth most dangerous occupation, with 38 deaths per 100,000 workers annually. The statistics caused pizza delivery to rank higher on the danger scale than other jobs considered much more dangerous, such as roofers and construction workers. The job is so dangerous that blogger Jacob Grier only half jokingly called it "Pizza: The Widowmaker." A quarter of the fatalities result from assault and robbery, but the majority of pizza delivery-related deaths are caused by traffic accidents.
Pizza Delivery Drivers Pose Dangers for Others, Too
Of course, when a pizza delivery driver is injured in a car accident, it is not usually an isolated event; other drivers and passengers are also involved. All too often, the accident is caused by the delivery Workers' negligence. They are racing for tips, trying to uphold the company's reputation for service, aiming for positive feedback at work, or they are simply checked out and bored because they spend so much time in the car. In 2010 in Madison, WI, for example, Matthew Bruntjen sustained serious injuries after a pizza delivery worker hit his car head on . His injuries included fractures to the skull and internal injuries. Because he was having trouble breathing, doctors performed a tracheotomy and worked to fix a fractured larynx. Following the accident, he was no longer able to work at his job as a vacuum cleaner salesman, and he anticipated having trouble holding down any job. He waged a lawsuit against the driver, as well as Belthalto's Pizza and Imo's Franchising, which sets policies for the pizza company. A jury awarded Mr. Bruntjen $2,284,500 for his injuries .
Who Is Responsible for Pizza Tragedies?
Image: http://pixabay.com/en/cheese-crust-delicious-dinner-eat-164872/
A similar event happened in 2012, when 65-year-old Ruth Christopher and her 70-year-old husband Devavaram Christopher were struck by a Domino's pizza delivery driver. Ms. Christopher was killed while her husband suffered a traumatic brain injury that left him unable to talk. An investigation found that the crash was partially caused by the high speed of the driver and partially by the highly worn tread on the delivery car's tires. A jury found the Domino's corporation 60 percent responsible for the accident and awarded $32 million to the Christopher family. The company was found guilty of not enforcing inspections of delivery vehicles and of allowing their driver to deliver in an unsafe vehicle. Chip Ferguson, the family's personal injury attorney, is quoted in Bloomberg Business Week as saying, "We also learned that Domino's enforces a tragically unsafe delivery method by providing bonuses and other incentives for fast delivery."
Some, however, have protested the decision. Tim McIntyre, the vice president of communications for Domino's, said that each Domino's restaurant is a separately owned franchise and stated, "The employee in question did not work for us; he worked for an established independent franchise operation. Franchisors do not control the day-to-day operations of franchisees, especially to that minute level of detail. We are saddened by this tragedy, but do intend to appeal the decision."
In some ways, we agree with Mr. McIntyre. Franchises are owned separately, and individual owners hold the primary responsibility for their employees. We agree that the Domino's corporation should not be held responsible for the worn tires – though the driver and the franchise owner should be. However, offering incentives to employees for fast delivery is a corporate action, and because of that, the corporation does share responsibility for this tragedy. After all, they were found liable in 1993 when their 30-minute delivery policy urged delivery drivers to speed, causing a major accident. It should be no different 20 years later. Whether Domino's publicizes their quick delivery or they merely promote it among their employees, urging employees to drive recklessly is itself a reckless action.
Sorry, Domino's. We love your pepperoni, but we're with the courts on this one.