Accidents happen every day. In fact, according to the National Highway Traffic Safety Administration (NHTSA), there were 6,452,000 police-reported accidents in one recent year. That's an AVERAGE of over 17,000 accidents per day! Thankfully, a great deal of these are minor accidents. Regardless of the severity of the accident, there is one critical factor that all insurance companies will want to know:  Who is at fault?
---
Determining liability in a car accident—whether pursued through the insurance company's claim process or through a personal injury lawsuit—will only be paid out if the injured plaintiff can prove negligence.
There are times when the blame is clear, such as in most rear-end accidents. However, there are other times when there is more than one individual at fault.
---
Here is a look at some common car accident scenarios and the process of evaluation that goes into determining fault.
Left-turn Accidents

Left-turn accidents occur when one vehicle is going straight through the intersection while another car is making a left turn and collides into the side of the straight-moving vehicle. Like rear-end accidents, liability is generally easy to determine. Left-turning vehicles have a lower priority in this scenario, meaning that—unless there is a green arrow—they must yield to those moving straight through the intersection. A study from the federal government discovered that the left-turning driver most often committed a critical error, such as "turning with an obstructed view," "misjudgment of gap or speed," "inadequate surveillance," or "false assumption of the other driver's intentions."These are all errors that place liability for an accident at the hands of the left-turning driver.

Are there ever cases where the other driver is at fault, though?

Yes. While rare, the driver of the straight-moving car may incur some liability for an accident. One such circumstance is in the case of an accident in which the driver of the straight moving car was traveling at a speed far in excess of the speed limit, making it impossible for the turning driver to either see him or her in time or to calculate how much time he or she has to complete the turn.

T-Bone Accidents

In a collision where one vehicle rear-ends another, the driver of the trailing vehicle is at fault far more often than the leading vehicle. Lawyers will look for signs of distraction, speeding, and following too close on the part of the trailing driver, while also keeping in mind that the lead driver could share blame. Mechanical failure can also contribute to these accidents, so lawyers will pay attention to any signs of a defective part.

Typically, in a T-bone accident, one vehicle comes flying through an intersection without stopping. The driver might miss the presence of a stop sign or fail to notice that a light turned red. Drunk driving or distracted driving can increase the risk of a T-bone accident. Usually, in these scenarios, you might assume the driver who struck the side door of a vehicle bears liability for the accident. However, you should ask several questions to help determine liability in this scenario.

Running The Light

Which driver ran the light? In an intersection with a red light, consider which driver ignored traffic laws and came through the intersection without stopping for a red light. Usually, other drivers can easily confirm which driver ignored the light.Which driver ignored a stop sign? In an accident at an intersection with a stop sign, the driver responsible for the accident may have failed to stop for the stop sign or came through the intersection after another driver had already started progressing through the intersection.

Were both drivers moving at the time of the accident?

Sometimes, in a T-bone accident, one driver might strike another, stationary vehicle. Sometimes, a car might stall in the middle of the intersection or get stuck due to traffic. While drivers should try to avoid sitting in an intersection, sometimes, circumstances make it impossible to avoid it completely. If one vehicle had to stop, and another one strikes it in the side, the driver who moved after the other vehicle stopped bears liability for the accident.

Head-on Collisions

Perhaps one of the most deadly types of accidents is a head-on collision. Sometimes referred to as a frontal crash, this type of accident occurs when two vehicles strike one another while traveling in opposite directions. When the fronts of two vehicles collide, it is often at high speed.Survival may depend upon the stretch of road, the reaction time of one or both drivers, and the type of vehicles involved. With the front end of the car receiving the brunt of the impact, larger and heavier vehicles protect occupants better than smaller, lightweight cars.

Consider the weights of the following vehicles and the force of the impact when they meet, head-on, at high speeds:
Car (SUV): 3,778 pounds
Pickup truck: 5,217 pounds
Minivan: 4,485 pounds

Single-Car Accidents

Single-car accidents occur when a motorist loses control of a vehicle rolls over, drives off the road, or collides with a stationary object. On the surface, one might assume single-car accidents are always the fault of the driver. But that isn't the case. Drivers in single-car accidents too-often blame themselves for a crash. In fact, as often as not, fault for single-car accidents lies elsewhere.To begin, even without a collision there can still be another motorist who causes a single-car accident. Take, for example, the common scenario in which a car swerves and crashes into a tree or road barrier in reaction to erratic driving by a second vehicle that goes unharmed. In that case, the driver of the second vehicle has fault, even though he wasn't technically involved in the accident.
Similar to other scenarios above, automotive manufacturers and municipal road contractors may also have fault for single car accidents if their actions create unsafe conditions leading to a crash. Another party who could have fault for a single-vehicle accident is a drug manufacturer, if it markets a medication with dangerous side-effects without warning about them, leading a driver to fall asleep or to become disoriented behind the wheel.
---
What to Do Immediately After a Car Accident
The most important step immediately after a car accident is to seek medical attention. Even if you feel fine, accept transport to the nearest hospital. Internal injuries are often invisible to the naked eye while causing serious harm to your organs. Only a medical professional can determine the true extent of your injuries.
Do provide as much information as you can to law enforcement. If possible, take pictures of the accident scene and if you are too injured to do so, ask a witness to take them for you. Collect the contact information for witnesses and most importantly, try to remain calm. Do not approach or talk to the other driver.
---
How a Florida Personal Injury Attorney Can Help You Fight Back
As we said at the outset, fault forms the core of the inquiry into who has legal liability for a car accident and the damage it inflicts on innocent victims. Accordingly, lawyers, insurance adjusters, judges, and juries focus a significant amount of effort on determining fault in car accident cases.
Finding fault means investigating facts in detail. An attorney representing a client injured in a car accident will usually try to collect as much evidence as possible about the accident, and then (sometimes with the help of forensic experts) will piece that evidence together to form a picture of whose actions led to the collision or accident. In performing this task, lawyers pursue the facts as far as they go until there is no longer a provable, reasonably foreseeable connection between someone's actions and the accident and injuries.
The more time and information you can provide to your lawyer to do this work, the better your chances of recovering the compensation you deserve. Once fault has been determined, a personal injury attorney can help you file a personal injury lawsuit and fair compensation.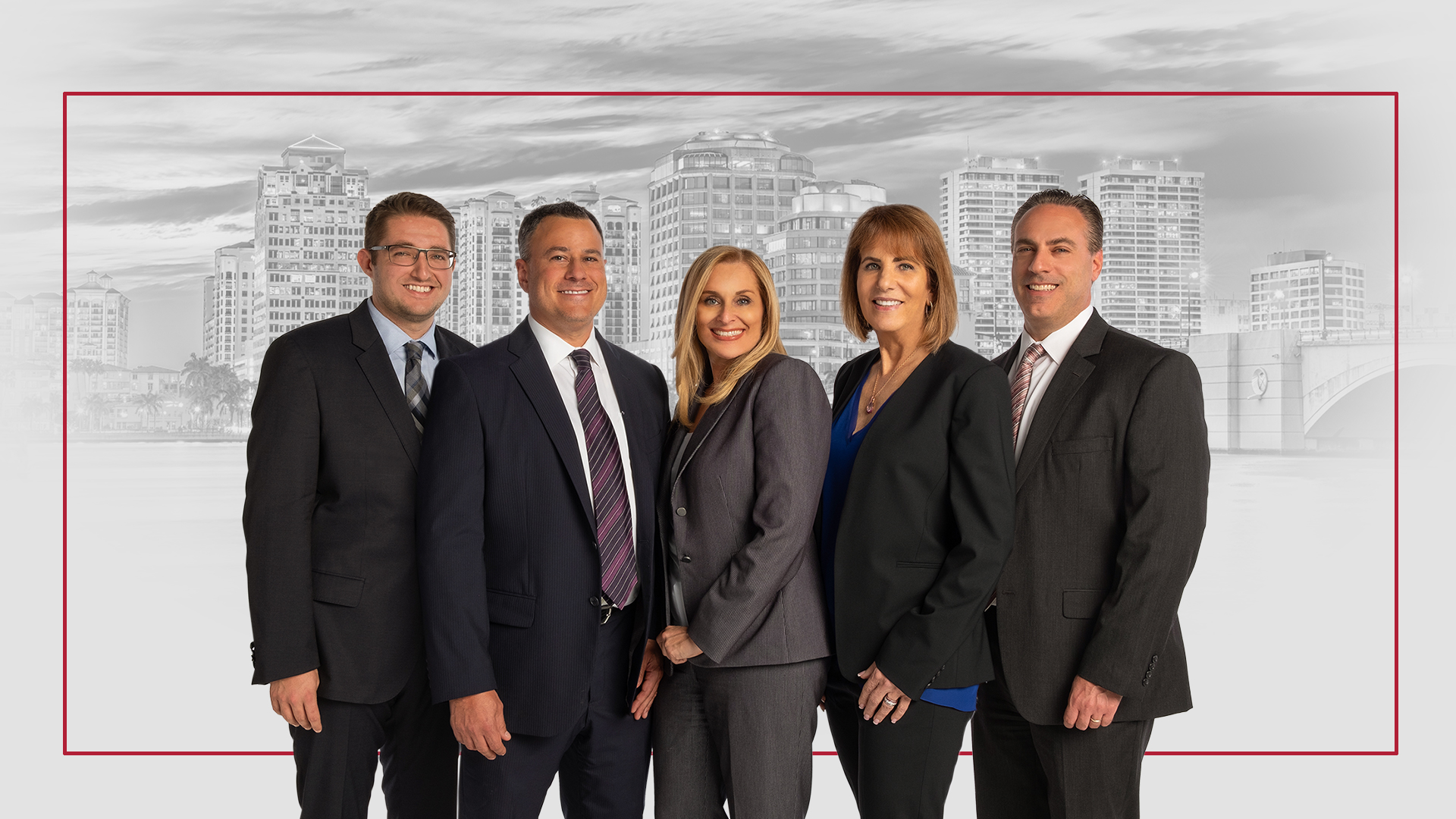 A skilled Florida personal injury attorney can ease your burden in dealing with all of this and help you fight to get the compensation you deserve. Reach out today for a free case review. We will look over the details of your situation and let you know what options are available to you.
When your life has been turned upside down due to another's negligence and you are drowning in bills and struggling to recover, you want to make sure you work with the best law firm you can find.
What is the difference between a high-quality injury firm and one that will only do the bare minimum?
The people who work there. That is why The South Florida Injury Law Firm is made up of some of the most well-respected and successful injury attorneys around.
Our lawyers have more than 60 years of combined injury law experience, and they have handled just about every type of Florida injury case you can imagine. They are members of the Million Dollar Advocates Forum, an elite group of attorneys who have helped settle injury cases worth more than a million dollars. They have been named to Florida Trend's Legal Elite. They are recognized by the Florida Workers' Advocates group.
Perhaps even more importantly, they have received glowing reviews from clients – and they get results.