When school is out and the days are longer, the rate of dog bites in Florida surges.
There are all kinds of ways that people can get injured in the summer – especially kids – but dog bites usually isn't at the top of anyone's list. Still, every year more than four million Americans are bitten by dogs. According to a report from NBC Miami, statistics show that summer is the most dangerous season for dog bite injuries—particularly for young children. Of the 800,000 individuals who receive medical attention for dog bites in America each year, more than half are children. Not only are children common victims of dog bites, they are far more likely to suffer serious injury.
What makes children especially vulnerable to dog bites during the summer? With more time to play, vacation, and visit friends and families, children are more likely to encounter dogs who are unfamiliar, nervous, and aggressive. Additionally, affectionate behaviors like hugging, tugging, and kissing is often misinterpreted by unfamiliar dogs, who then respond defensively by biting.
To reduce the risk of injury for you and your kids, it's a good idea to educate your family about dog bite prevention. We've listed six key tips for avoiding dog bites below.
Remember, all dogs can bite. Big or small, sweet or sleepy, cute or funny looking—all types of dogs may bite under certain circumstances. Remember to act respectfully and cautiously in the presence of a dog, and teach your child to do the same.
Avoid angry, startled, and scared dogs. Keep away from dogs that are growling or barking, and never startle a dog by attempting to pet it while it is eating, sleeping, or caring for puppies.
Understand body language. Reading a dog's body language is often a useful tool for interpreting how it is feeling. Dogs often try to make themselves appear bigger and tougher when they feel threatened, raising their ears, straightening their tail, and baring their teeth. When dogs are scared, they may hunch lower to the ground, put their tails between their legs, and flatten their ears.
Ask permission. Before petting an unfamiliar dog, be sure to ask permission from the owner. If the owner gives approval, allow the dog to sniff your closed hands before patting it on the shoulders or chest. Let your child see your example before encouraging him or her to do the same.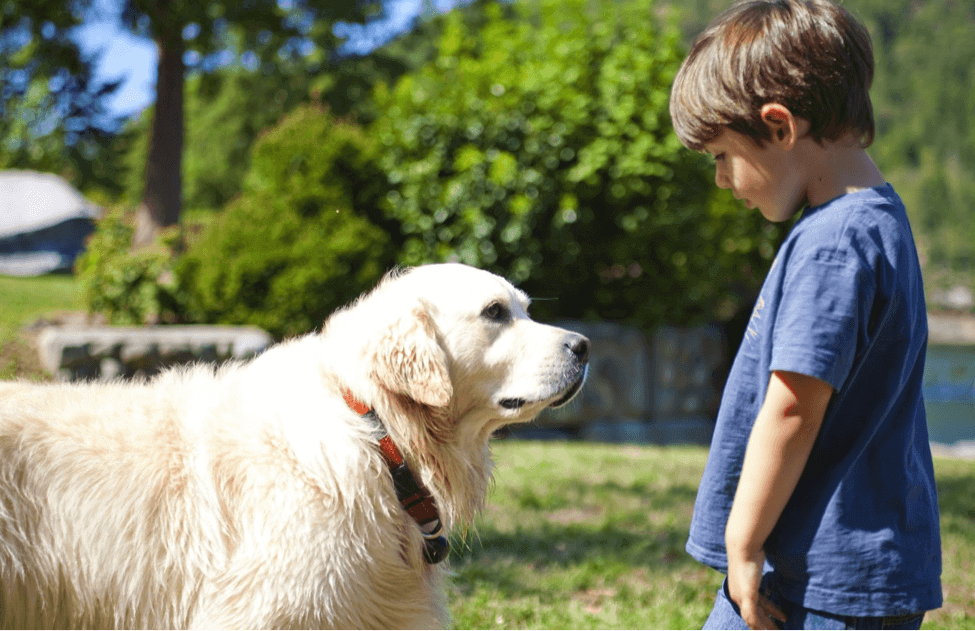 Don't tease. Make sure your family understands never to tease a dog by taking their food or toys, or pretending to kick them. Teach your kids to never pull a dog's tail or attempt to climb on it or ride it.
Stay calm. When a stray dog attacks, do not shout, run, or hit it. Instead, stand still and be quiet, with your hands clasped in front of you and your head down. If you or your child is knocked over, curl up into a ball and cover your head and neck with your hands.
If You or Your Child Has Been Bitten By a Dog
Dog bites can happen despite your best efforts to prevent them. If you or a loved one has been bitten by a dog, you should clean and sterilize the wound immediately. If the wound does not stop bleeding within five minutes, or if it was sustained to your head or neck, call 911.
As soon as possible, you should contact a Florida lawyer with experience in dog bite injury law. Your attorney may be able to help you hold the dog owner accountable for the accident, and obtain compensation for medical bills and other recovery-related costs.
About the Author:
Jeffrey Braxton is a trial lawyer in Fort Lauderdale who has devoted his 22-year career to the practice of personal injury law. As lead trial attorney for The South Florida Injury Law Firm, Jeff has litigated thousands of cases and is a member of the Million Dollar Advocates Forum, an exclusive group of attorneys who have resolved cases in excess of one million dollars.